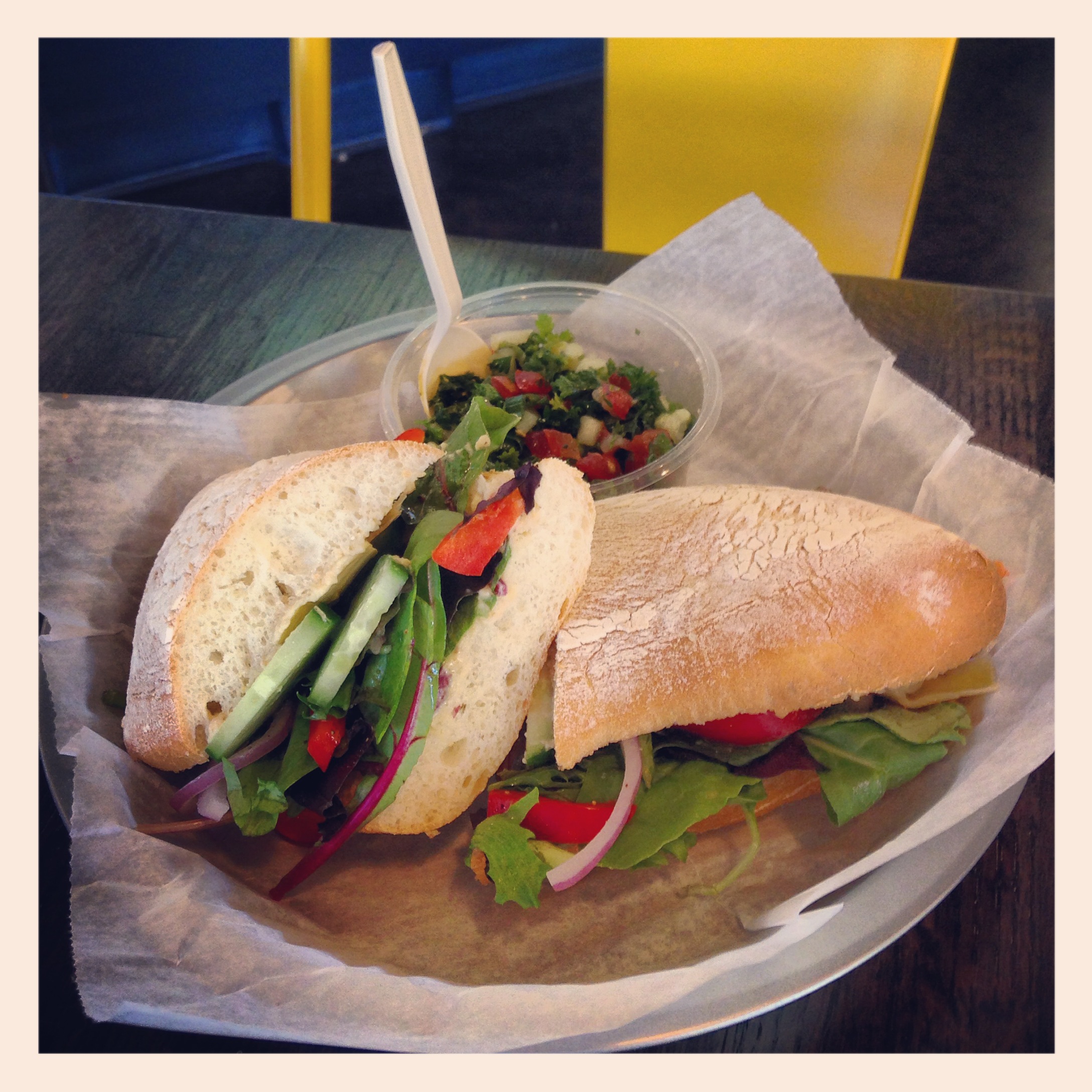 Good Clean Food
Locally Sourced × Crafted with Love
Located in Boulder, Colorado in The Peloton building, Naked Lunch is a sandwich, salad, and treat shop focused on seasonal, local and organic foods.
Photos by amy mccall
Naked Lunch opened in October 2014 and is located inside The Peloton building in Boulder. Since then, we have been serving sandwiches, salads, soups and treats. We cook, all day everyday, to ensure we're serving the best tasting and highest quality food we can. We roast the beef, boil the potatoes, bake the goods etc all on site.
Phone
(303) 449-4647
Location
3301 Arapahoe ave
In The Peloton
Boulder CO 80303
Hours
7:30am - 6:00pm M-F
9:00am - 4:00 pm Saturday
Closed Sundays
Biscuit with Brie and Jam
4.65
Yogurt with Granola and Fruit
4.75
Donuts and Baked Goods
Assorted Prices
$

11.25
Reuben
On Rye; with swiss cheese, slaw, and 1000 island dressing. Choice of Corned beef, turkey, roast beef, or beets
$

11..25
Banh Mi
On Ciabatta; with pickled veggies and sriracha mayo. Choice of pulled pork or portabellos
$

11.25
Pastrami
On Rye; with swiss cheese, pickled red cabbage, and spicy mustard
$

11.25
Spicy Turkey
On Ciabatta; with white cheddar, bacon, red onion, green apples, and chipotle mayo
$

10.25
Turkey
On Ciabatta; with swiss cheese, mayo, Dijon, cucumbers, mixed greens, and pickled red onions
$

11.25
Italian
On Ciabatta; with pepperoni, salami, capicola, mozzarella, parmesean, olive salad, mixed greens, mayo, red wine vinaigrette, and sesame seeds
$

10.25 /

$

11.25 with turkey
Brie and Apple
On Ciabatta; with honey mustard and mixed greens
$
10.25 /
$
11.25 with turkey
$

11.25
Roast Beef
On Ciabatta; with swiss cheese, horseradish mayo, mustard, arugula, and pickled red onions
$

11.25
Corned Beef
On Ciabatta; with swiss cheese, slaw, and 1,000 island
$

10.25
Hummos
On Ciabatta; with kalamatta olives, artichokes, cucumbers, red onions, red peppers, mixed greens, and olive oil and balsamic
$

11.25
Avocado
On Ciabatta; with white cheddar, cucumber, pickled red cabbage, red peppers, mixed greens, and lemon tahini dressing
$

11.25
Chipotle Chicken
On ciabatta; with goat cheese, slaw, avocado crema and pickled red onions
+ Cashew cheese or avocado can be substituted for dairy cheese
Extra meat
2.00
+ Cashew cheese or avocado can be substituted for dairy cheese
$

9.25
Michigander
On mixed greens; with goat cheese, walnuts, green apple, dried cranberries, and creamy maple dressing GO BLUE
$

10.25
Italian salad
On mixed greens; with tomatoes, kalamata olives, roasted red peppers, peperoncinis, parmesan cheese, salami, and italian dressing
$

10.75
Cobborado
On Romaine; with green chili goat cheese, avocado, tomatoes, cucumbers, and bacon
$

10.25
Medditeranean Rice Salad
On mixed greens, rice and lentils, artichokes, kalamata olives, cucumbers, red onions, tomatoes, and olive oil and balsamic
$

10.25
Chop Salad
On romaine, with avocado, chick peas, carrots, cucumbers, tomatoes and red onions with champagne vinaigrette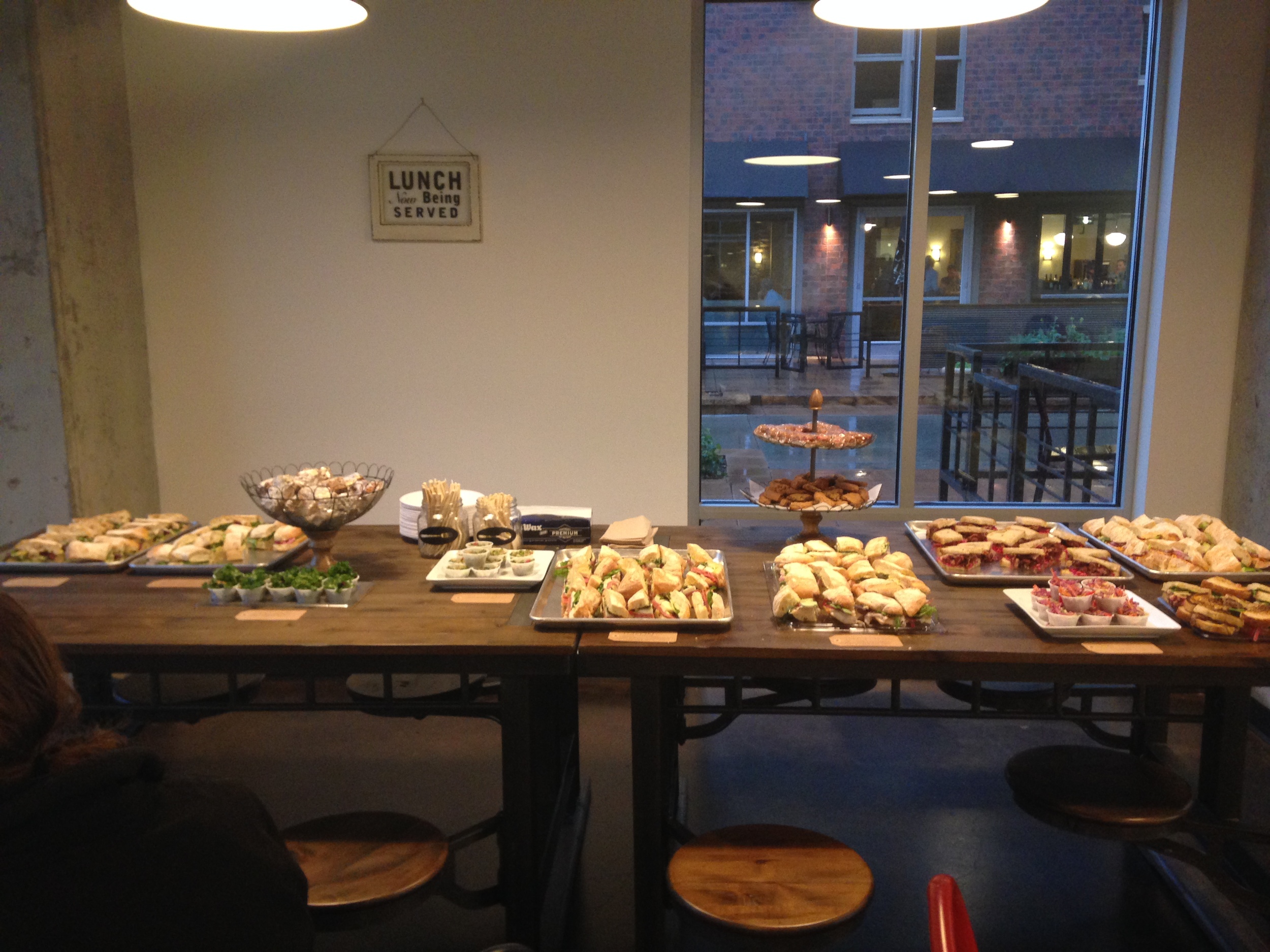 Sandwich Options
All served on Ciabatta bread
TURKEY - with swiss cheese, mayo, dijon, cucumbers, mixed greens & pickled red onions
ITALIAN - with pepperoni, salami, capicola, mozzarella, parmesan, olive salad, mixed greens, italian dressing, mayo & toasted sesame seeds
BRIE & APPLE - with honey mustard & mixed greens
BRIE/APPLE/TURKEY - with honey mustard & mixed greens
HUMMOS - with kalmata olives, artichokes, cucumbers, red onions, red peppers, mixed greens & olive oil and balsamic
ROAST BEEF - with swiss cheese, arugula, pickled red onions, whole grain mustard & horseradish mayo
CORNED BEEF - with swiss cheese, slaw & 1000 island
AVOCADO - with cheddar cheese, mixed greens, pickled red cabbage, red peppers, lemon tahini dressing, mayo and cucumbers
sack lunches
Comes with chips and a cookie
Side Salads - 24 or 48 oz
(seasonal)
PLATTERS
Quartered assortment of sandwiches (mix of veggie and meat options)
MEDIUM - Feeds 12-15
120.00
LARGE - Feeds 18-22
175.00
TREAT TRAYS - Assortment of treats (healthier options available)
2.75/person
$

2.50 / person
DONUT TRAYS - Assortment of donuts
(gluten free & vegan)